Security Doors from KeyTrak
To provide our clients with the relevant security solutions for their commercial premises, we have implemented a range of innovative technologies to our security doors in the UK. Featuring a range of innovative and high security doors, our commercial security doors in the UK provide commercial businesses with an effective security solution for their needs.
One of the security doors that we offer is The Robust FDA. The "FDA" steel security door is an entry level external security door offering exception value for this industry leading specification. The "FDA" is custom manufactured in the UK, with an average lead time of only 3 weeks.
FDA security doors are available in a wide range of sizes from 690mm-1340mm wide single doors and 1000mm – 2600mm double doors and from 1500-2800mm high.
At Keytrak, we stock and install a huge range of security doors across the UK, available to suit every application and budget. Our security doors are built to order, and Keytrak's security engineers are available to carry out a free site survey to confirm dimensions and requirements.
We supply and install a range of security doors in the UK for commercial premises. Our security engineer team work to install security doors, for new installations and for retro fit situations. Our security doors range includes 4 grades of LPS1175 high security insurance approved security doors, fire rated security doors, louvred security doors, communal entrance security doors, and with choices of colour finish and locking mechanism.
Customer testimonials are available on request!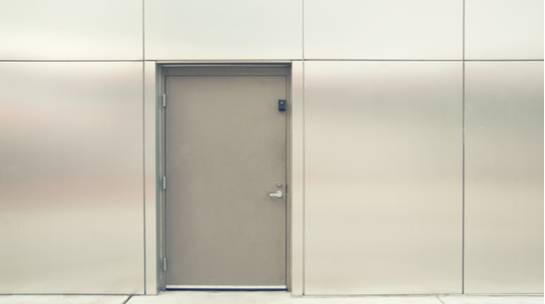 Book Maintenance
Book Repair
Enhance your Safety measures with our Security Doors
The frame for the security doors (or on double security doors the inactive leaf) has a step in its edge to ensure that the astragal is able to sit flush making it more difficult to attack than other door types with either no astragal or a joggled astragals Our security doors are additionally hung on four stainless steel hinges complete with security dog bolts. Supplied with four fixing points per side which reside within the door leaf, our high-quality security doors provide protection regardless of whether the door is fitted with an inward, or outward opening. Each security door is supplied with our variable sub frame cloaking the gap between the building structure and the main security door frame, further protecting the door fixings from external attack.
FDA security doors are supplied fully assembled with hardware fitted as standard. When combined with our adjustable fixing feet and variable sub frame installation time for security doors are drastically reduced, adding value to a project in return. The single fix design of our security  doors can offer great cost savings when priced against overall installation times for timber and the inherent durability of steel means that in areas of high traffic or potential abuse the "whole life" cost of a steel door outweighs that of a timber door set.
In addition, we can offer our External security doors either primer finished, powder coated or wet spray finished and can also pattern the door blade from a range of designs to allow for a more traditional aspect to the door set. We provide a range of attractive woodgrain PVC laminates which offers your security doors the traditional look of timber with the modern durability of steel.
GLAZED STEEL PROFILE SYSTEM
GLAS-DOR is our fire-resistant, steel profile system. Featuring a core of fire-resistant insulation for sliding doors, glazed doors, partition walls and window sections, our GLAS-DOR is ideal for use across a variety of commercial premises.
Tested to PAS 24 and endorsed by Secured by Design, GLAS-DOR can combine both fire and security resistance, making it an ideal security door for all types of commercial premises including offices, airports, hotels, hospitals and other kinds of public buildings.
NOVOFIRE ALUMINIUM SYSTEMS FOR DOORS AND WALLS
NovoFire aluminium profile frames are an ideal solution for modern property construction. With an elegant surface finish and timeless design, the NovoFire profile frame offer limitless possibilities for architects and planners. Featuring a transparent fireproof and smokeproof seals, NovoFire is available in 3 various configurations:
NovoFire® RS (non-fire rated, smokeproof)
NovoFire® T30 (EI 30 fire rating)
NovoFire® T90 (EI90 fire rating)
OUTA-DOR THE INDUSTUSTRY LEADING STEEL SECURITY DOORS
OUTA-DOR provides the standard for external steel security doors, with industry leading specification and up to 10 years anti-corrosion guarantee. The OUTA-DOR is available made-to-measure in a variety of heights and widths, suiting any requirement.
OUTA-DOR PREMIO SECURITY DOORS
Recognised as the next generation of steel doors for Europe, OUTA-DOR Premio provides a huge range of variants and uniform appearance, making it extremely ideal for construction projects. Featuring a thick rebate and extensive design features, OUTA-DOR Premio also makes for a visually appealing addition in the office.
OUTA-DOR Premio is built in line with the European product standard EN 16034: 2014 – the relevant standard for CE Marked external fire rated door sets.
INNA-DOR FIRE RESISTANT SECURITY DOORS
Steel doors have been successfully redesigned away from their original roots, providing a highly cost-effective solution. Featuring an aesthetic design, durable construction and up to 4 hours fire protection, INNA-DOR is an ideal choice for commercial premises such as schools, hospitals, offices, and other public buildings.
INNA-DOR offers substantial benefits over comparable timber doors in strength, durability & security. The range has been tested to BS 476 Parts 20 & 22 and BS EN 1634.
NOVOSLIDE FIRE RESISTANT SLIDING DOORS
NovoSlide Fire Resistant Sliding doors provide extreme safety for areas such as underground garages, multi-storey car parks, and other public spaces that require special security doors. This type of fire barrier is covered by the European product standards EN 16034 ("Fire barriers").
NOVOSLIDE FIRE RESISTANT SLIDING DOORS
NovoSlide Fire Resistant Sliding doors provide extreme safety for areas such as underground garages, multi-storey car parks, and other public spaces that require special security doors. This type of fire barrier is covered by the European product standards EN 16034 ("Fire barriers").
TUFF-DOR CERTIFIED SECUIRTY DOORS
TUFF-DOR is designed to provide an enhanced level of security for a variety of commercial premises. From domestic or light commercial premises, through to areas at high risk of attack by experienced intruders, TUFF-DOR delivers efficient security for a range of commercial premises. TUFF-DOR is fully a certified LPS 1175 security door set.
SECUR-DOR CERTIFIED SECUIRTY DOORS
SECUR-DOR by ROBUST is successfully tested to Warrington Exova Certisecure STS 202 and PAS 24 standards. Included in the 'Secured by Design' scheme; the official UK Police initiative to 'design out crime', SECUR-DOR offers a physical barrier intended to deter and delay intruders for a specified amount of time.
VENT-DOR STEEL AND ALUMINIUM SECURITY DOORS
VENT-DOR, a louvred door, is suitable for rooms where continuous airflow is required to provide ventilation for machinery. Stronger than traditional lightweight aluminum louvres, VENT-DOR can be used with side and over panels making them ideal for plant rooms, boiler rooms, server rooms etc.
TUFF-DOR STEEL SECURED LOUVRED SECURITY DOORS
In addition to our standard steel and aluminum louvred products, we also manufacture security rated louvred doors. TUFF-DOR is certified to PAS 23 and Secured by Design approved. Offering maximum free airflow while maintaining security and strength, TUFF-DOR is suitable for plant rooms, boiler rooms, server rooms etc.
Get in touch
Our security doors range provides commercial premises with an ideal security solution, that meet your requirements. For more information surrounding our security doors, available for installation across the UK, get in touch with the Keytrak team on 0161 507 6888. Alternatively, you can get in touch with the team here.