Access Control Systems by Keytrak
Access Control Systems are an efficient solution for end users in the Warrington area, looking to control, or monitor access at their premises. Providing security and efficiency, access control systems are commonly deployed in commercial premises to allow for restriction in unauthorised areas.
Access Control systems in Warrington are a great way to ensure your commercial premises is both secure and protected. Our Warrington based team of security engineers are highly skilled in the application and installation of Access Control Systems varying in security and complexity. We have extensive experience in installing access control systems, and have undertaken a number of projects ranging from 1 to 100+ door systems, and 10 to 1,000's of users. With a vast amount of experience in installing Access control systems in Warrington of all complexities, you can be rest assured you're in safe hands.
At Keytrak, we have a wealth of experience in specifying, installing and maintaining state-of-the art access control systems in Warrington and surrounding areas. Each of our access control systems integrates the most advanced security technologies and networking capabilities. This is done so that we can provide an ideal solution for end users who are looking to either control or monitor access at their premises. At Keytrak, we work at a wide variety of commercial premises, installing Access Control systems in Warrington. If you are interested in finding out more about our Access Control Systems in Warrington, get in touch with the team.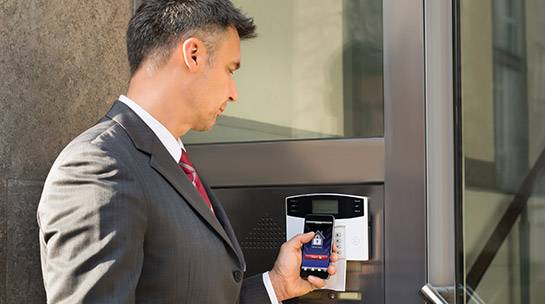 The Benefits of our Access Control Systems in Warrington
There are several long term benefits of using an access control system for your business, regardless of whether you are the owner of a small enterprise businesses or large corporation. Our access control systems can help you:
Improve Security instantly by remotely setting individual access permissions and removing access permissions for lost cards/fobs or the cards/fobs of former employees at the click of a button.
Monitor internal movements by generating reports of who went through which door and when.
Improve HR and Health and Safety systems with time and attendance reports and roll call etc)
Reduce Costs (for example, lost keys would typically mean changing locks, whereas a lost fob or card can have its permission removed instantly).
Prevent loss or damage to capital assets whilst also reducing the risk of personal injury to both staff and visitors.
Tailored Access Control Systems in Warrington
Whatever your reason for considering an access control system being integrated into your business, we guarantee to provide the perfect solution for you. Our expert security engineers based in Warrington are here to provide quick and easy installation of an access control system.
For smaller properties we highly recommend a stand-alone access control system, whereas larger premises are better suited to a PC based, network controlled access control system. The PC based access control system allows you to easily create layered access rights and time zones for different entries.
To find out more about the different types of access control systems in Warrington that we can offer, simply get in touch! Do not hesitate to get in touch with the Keytrak team here. You can also check out our handy Access Control Systems guide online here. We offer free surveys at any site across Warrington and beyond and we are also Gold Level Installers of Paxton Access Control Systems.