Padlocks for Containers / Self Storage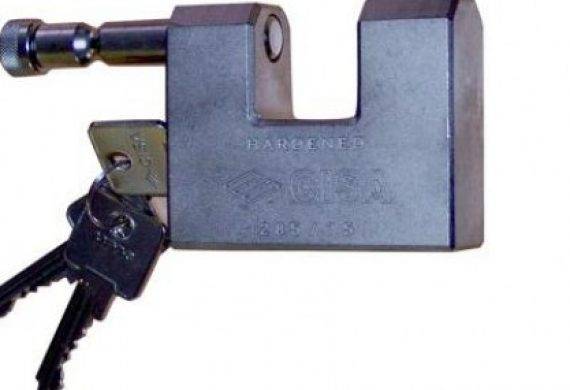 Padlocks for Containers / Self Storage
If you run a self storage site it is hugely important to get the management of your locks and keys right from the word go. An important thing to consider initially is what are you going to do if the customer fails to pay? Or if they lose their keys? Are you going to keep hold of a key for the duration of the rental, have a master key system (see below for info on suites), or pay for the inconvenience of having a lock cut off/ picked should either of these unfortunate scenarios arise?
Here we look at the methods available:
Keyed to Differ
This is the cheapest option. Here you will just buy a set of locks straight off the shelf. Most locks are supplied with 2 keys each as standard, that's one key for you and one for your customer. With this option you can also look at a range of different locks, from the bargain bucket (K Force Am Tech) right through to the top of the range locks (CISA 75 and Squire WS50). It's important to consider whether you get the locks recorded by your locksmith. This means that if a set of keys go missing, you can call the locksmith with the key or lock reference and a replacement key can be sent out in the post. Key recording usually costs between £1.00 and £2.00 extra per lock.
Keyed Alike
This means having all locks working to the same key. This only works in a secure environment where all storage areas/ containers are being used by the same group of people, i.e employees of a company, members of a sports club etc. Although this tends to costs £3 or £4 more per lock, key recording is usually included so that when more locks are required that work to the same key, they can be ordered simply by calling your locksmith with the key reference.
Master Key Systems
Master keyed padlocks are becoming increasingly popular throughout the self storage industry as more and more companies become aware of the possibilities and solutions that they can provide. With a master key system each lock has its own individual key but the set of locks (up to 300 locks) also comes with a master key that can open them all. If you run a storage site that has 200 containers this means that you don't have to have 200 spare sets of keys, all you need is your master key. Individual customer keys will only work their lock, but your master key can open every lock. This saves a huge amount of time and hassle in the event that a customer loses their keys or if they refuse to pay their bill. No more cutting of lock boxes or calling out a locksmith! Although this tends to cost between £4.00 and £5.00 extra per lock due to the bench time required to pin up the locks to suit a master suite, the benefits offered usually outweigh the additional expenditure. Container padlocks that can be master suited include the CISA 285 75 and ASSA P600.
For more information, please call our in house container padlock expert Lewis on 0151 495 5740.