Building Entry Systems from Keytrak
At Keytrak, we specialise in supplying and installing state of the art building entry systems which are designed to keep properties, working environments, and public facilities such as hospital and health care centres safe and secure. With more than 30 years' experience as one of the UK's leading security and lock specialists, Keytrak is a name that you can trust to deliver exceptional security solutions. We also put our customers needs first from the initial enquiry, through to installation and training. Whether you're looking for building entry systems for residential properties, corporate buildings, industrial buildings and for public facilities such as health care centres or schools and universities, we have the solution for you.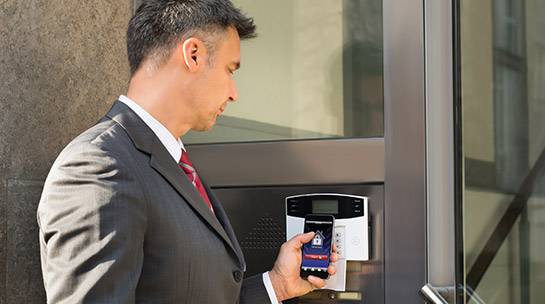 Our Building Entry Systems
We are proud to offer a range of industry leading building entry systems which provide users with a total security solution. Whether you are responsible for the management of multi-occupancy blocks or you're a business manager looking for a security solution to protect your assets and personnel Keytrak can help. We stock and install a range of building entry systems including:
With one of our audio building entry systems, you can identify visitors before even opening the door. Combine this with one of our electric locking systems and you can even unlock the door remotely. Audio entry systems are a fantastic choice for those looking for an easy to use and simply security system. The systems are especially popular for residential apartment blocks and office blocks.
A step up from our audio entry systems, our video building entry systems not only allow you to identify visitors via voice but also via video. When a visitor presses the call button outside, the camera is activated and a buzzer sounds on the handset. The system can also be set up to monitor two doors and can also manage multiple call buttons dependent on the size of your building or the occupancy. Our video entry systems are a flexible security solution which provides businesses and residents with total control over who is admitted to the building.
Staff Entry Door Systems:
Our staff entry door systems improve the security of your business by introducing passwords, fobs, cards, audio, video and finger print identification into the admission process. Whatever your needs or preference, we can install state of the art staff building entry systems to protect your business 24/7.
Biometric building entry systems are becoming increasingly popular due to the systems offering users total control over who enters your building and restricted areas. At Keytrak we are proud to be suppliers and installers of the IEVO Ultimate fingerprint reading biometric entry system which reads fingerprints below the skin to grant access. Utilising world leading multi spectrum imaging and an advanced algorithm, the IEVO Ultimate really is the ultimate in biometric systems.
Electronic keypads are a great choice for those looking for key-less building entry systems. We offer a range of access control systems from single code keypads through to proximity keypads that can store multiple user access codes. At Keytrak we offer a huge variety of electronic keypads to suit specific user requirements.
Get in Touch for More Information About Our Building Entry Systems
With a range of building entry systems to choose from, each of which boast unique features, we guarantee to have the security solution for you, no matter how big or small your premise may be. For more information about any of our products, please contact us today.