What is the Act 10 Keypad?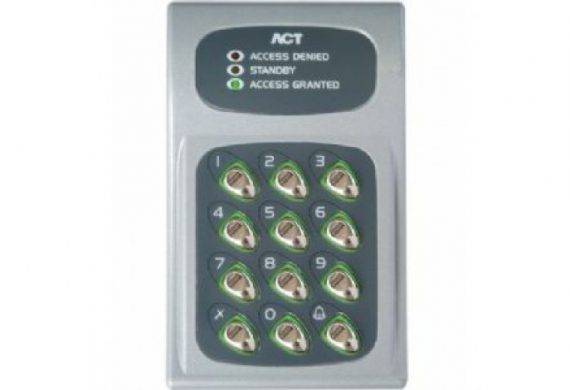 What is the Act 10 Keypad?
The Act 10 keypad by Keytrak is a robust 10 pin user coded access system which is designed to enhance the security of both internal and external access points. Highly versatile, the keypad can be utilised within a range of spaces, from commercial facilities and industrial sites, to residential properties including care homes and apartment blocks. With three simple responses, Access Denied, Access Granted and Standby, the keypad offers highly effective security at all times!
Why the Act 10 Keypad could be just what your business needs…
The Act 10 keypad offers many desirable advantages over traditional lock and key systems. By utilising user specific codes, the keypad removes the hassle of carrying lots of keys, fobs or cards. Each user can be given a unique code which grants access once entered correctly. The removal of keys, fobs and cards also removes the risk of duplicates being created and also reduced the risk of items being misplaced.
Highly convenient and extremely user friendly, the Act 10 keypad can help to simplify and enhance the security of your property by allowing a simple and quick movement around a building. The codes also help to ensure that restricted areas remain restricted by only granting a specific set of users access to a room or facility. This is especially useful for healthcare facilities, commercial spaces, warehouses and logistics spaces and areas where valuable equipment or stock needs to be safeguarded.
Speak to Keytrak today for more information on the Act 10 Keypad
Keytrak have been installing security systems for customers in and around the North West for over 30 years now. Highly experienced and knowledgeable, we can provide you with industry leading security solutions which can be tailored to your individual needs. If you would like more information about the Act 10 Keypad or any of our other door entry systems, speak to one of our specialists today.