Security Grilles Preventing Unwanted Access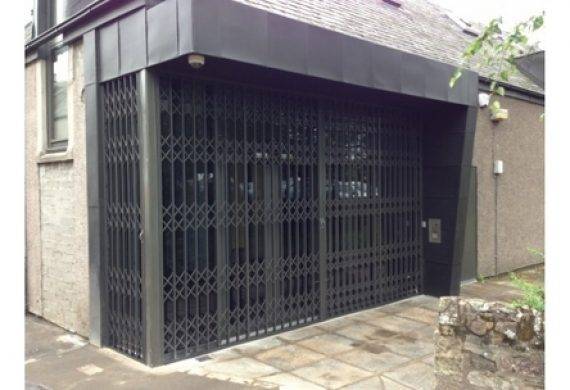 Security Grilles Preventing Unwanted Access
Perimeter security will always be a vital feature for all properties to avert criminals and opportunists. Security grilles, by Keytrak are an efficient way to make your property harder to breach through entry and exit points, whilst acting as a deterrent to individuals wishing to enter your property. The combination of electronic security and physical security that Keytrak can supply to premises such as residential buildings, commercial shops, schools, offices and many more. Turns your property into a stronghold, protecting you, your family or inventory against intruders.
Retractable and Fixed Security Grilles
By fitting security grilles to doors and windows, you're adding an additional layer of protection, which discourages burglary attempts. However, our customers can choose between either fixed or retractable grille designs, which do not dissuade law abiding citizens from entering your shop or home.
Our retractable security grille, Securoguard 1001 is perfect for offices, shops and other commercial buildings. Securoguard adds an excellent additional layer of security combined with a classic appearance. This brilliant security measure is ideal for accessible ground floor windows and doors, however due to their retractable gates, it allows maximum amount of light in but keeps intruders out. Find out more about Securoguard 1001 here.
For fixed security grilles, look no further than Crimeshield. Crimeshield is the ideal solution for protecting against unauthorised access through building entryways. This reinforced security measure protects glass, against thrown or fired objects. Crimeshield is versatile in its usage! and has been fitted in many diverse locations such as shops, schools, places of worship just to name a few. Notably, Crimeshield has been credited to saving our customers up to 30% of costs against conventional glazing. Discover more about Crimeshield here.
Security Grilles and other Security Measures
Additionally, as well as supplying a range of security grilles and other security measures, we offer an installation service to multiple areas of but not limited to the North West. So, for any of our security grilles or other perimeter security measures, speak to one of our team today.